Making the right choice can change a life!
In the heart of Uganda's slums, women struggle daily with enormous challenges. This is where "Skills4Change" comes into action! Marijke Roels founded a sewing workshop to support these women and teach them new skills.

In collaboration with Einstein Rising & Entrepreneurs for Entrepreneurs, we already trained a first group of women and started the fight against menstrual poverty. By producing reusable diaper panties and pads, we offer women the opportunity to generate a dignified income and contribute to the fight against menstrual poverty.

This project is made possible by the Province of East Flanders and our donors.
"I am so grateful to Malaika for allowing me to take this 6 month training. Through this I discovered skills that I apparently possessed but did not know until now. I gained more confidence in myself, bought myself a sewing machine and was able to open a small store where I sew and sell things I made myself."
Maria
Leerling eerste groep 2022
"Voor mij is het een plezier om te werken met Marijke Roels. Ze zet zich in Uganda in, om o.a. werk te geven aan de plaatselijke bevolking! Niets maar dan ook niets is beter dan de mensen die het moeilijk hebben werk te geven! Op deze manier, kunnen ze met respect voor zichzelf, geld verdienen en hun gezin te eten geven."
Griet Verachtert
HelpingNet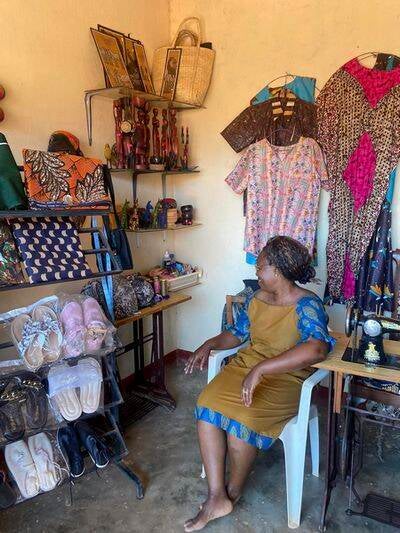 More info about this project
The challenge for women in Uganda's lums
Life in Uganda's slums is particularly hard for women. They have limited access to employment opportunities and live in poverty. As a result, they often do not have sufficient income to support themselves and their families. Some of them are mothers of children with disabilities, which makes their daily lives even more difficult.
Marijke's passion for crafts and self-reliance
Marijke's passion for crafts inspired her to establish a sewing workshop for these women. For her, it is the perfect way to help these women on their way to a better life and self-reliance. Marijke becomes intensely happy when she sees the women beaming as they independently create something.
Site search and collaboration with Einstein Rising
However, finding an affordable location for Malaika's sewing project was not an easy task. Fortunately, the Belgian NGO "Entrepreneurs for Entrepreneurs" (Ovo) put us in touch with Einstein Rising. A Ugandan incubator for start-up companies in Kampala, which shares the same passion and values as us. This collaboration is invaluable for the project.
Skills4Change: establishment and progress
Finally, in May 2022, 'Skills4Change' was established. For the project, we partnered with a skilled local teacher who continued the work in line with Malaika's philosophy when we ourselves were in Belgium. During our visit in September 2022, we saw that the first group of students had completed the six-month training and a second group started in January 2023.
The fight against menstrual poverty and our future
A major goal in 2023 is to combat menstrual poverty. About 60% of school-age girls in Uganda stay home during their periods because sanitary pads are too expensive. In partnership with Einstein Rising, women who have completed schooling and are interested in permanent employment are given the opportunity to make reusable diaper pants and sanitary napkins. This helps them earn a dignified income.
In 2024, the project will focus on incontinence materials in the same way as sanitary pads. This will bring new challenges, including appealing to a different local audience.
Skills4Change works around these Social Development Goals: